Sometimes we all need a little inspiration in the kitchen or some new ideas to shake up our everyday routine.  I asked some of my favourite people what cookbook they would recommend if I asked them right there on the spot.  What they responded with made me smile, inspired me and made it to my wish list.
Kerrie Ahern, Blogger, P'tite Cuisine
I have about 60 cookbooks (lol) but one of my most referred to & all-time favourite cookbooks is Every Grain of Rice by Fuchsia Dunlop. We sometimes get a real craving for the dishes we lived on when we were in China and find that Chinese takeaways & restaurants don't always do the job. This book has a ton of great recipes, most of which are very easy to follow and that have helped me understand the basics of using Chinese pantry ingredients & cooking methods. It's also packed with a lot of vegetable focused dishes that give me the scope to adjust them to whatever is in season at my local market. For novices, she has suggested menu ideas and a glossary of ingredients from the more basic to the less commonly used.  Some of my favourite recipes include red braised pork, bear's paw tofu and lotus root salad.
Michelle Secondi, Graphic Designer and Letterpress Printer, 417 Press
Since its release, It's All Good by Gwyneth Paltrow has been my go-to cookbook and by far the book I've recommended most. Forget the critics who love to hate Gwyneth; the recipes in this book are easy to make, easy to work into your weekly routine, and really, really good. My kids love the green juice, my carnivore husband asks for the vegan shepherd's pie and I'm thrilled that everyone in our family is eating well. No matter where you are on your own food journey, get this book, get cooking and love what you eat.
Victoria Foley, Public Relations Specialist, Epicure
Good Food: Veggie Dishes is my go-to recipe book for easy, quick but super healthy meals my family enjoys – even my 2-year old! There is a really good mix of seasonal recipes in here, alongside comforting favourites. Each recipe is explained step by step and uses a minimal amount of ingredients, leaving you plenty of room to add your own twist. My favourite recipe in the book is the Brie and Tomato Tart – if you are looking for a quick, veggie packed supper that looks impressive, this is it!
Tamera Clark, Chef
So I was thinking of a few cookbooks that inspire me at the moment and I could definitely name a few but I keep coming back to one that is very close to my heart; Montreal Cooks Cookbook. Not only is it full of amazing Montreal chefs and their 'from the heart' recipes, but I get to have the great pleasure of joining them in that journey. I know this might sound like a plug but it has inspired me endlessly. The recipes are delicious and photography will make you weak. It's chocked full of overly tempting food that you can find at the best restaurants all over Montreal. I want to and will make everything in this book! Let me know how the Rustique Lemon Bar turns out!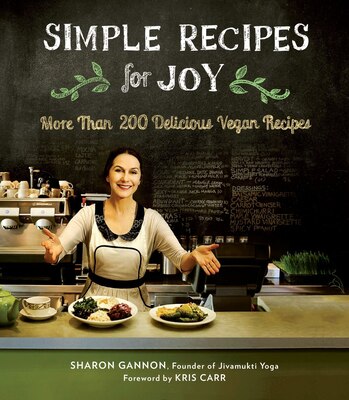 Jennifer Maagendans, Founder and Owner, Luna Yoga
Simple Recipes for Joy
is a vegan cookbook was written by my yoga teacher Sharon Gannon. It's beautifully photographed and well laid out, with a great introduction about her path to veganism and some frequently asked questions about vitamins, etc. The bulk of the book is filled with delicious vegan recipes (some short, some longer) and then a short section on sample menus and cleansing diets. This book has inspired me to try new recipes, some of our favorites being 
Caesar Dressing
, 
Simple "Cheese" Dressing
, and 
Truth Smoothie
.
Krystyne Carpenter, Founder, Bloom Foods
My favorite cookbook for the moment is The Kitchn Cookbook by Sara Kate Gillingham & Faith Durand.  It not only has delicious meal recipes to inspire one's cooking but also includes homemade cleaning product recipes, tips for organizing your kitchen, meal planning and food prepping. One of my favourite sections (besides the recipes) is the Daily Cleaning Plan For A Constantly Clean Kitchen, I feel like I'm constantly cleaning our kitchen but I'm often cleaning the same things over and over and probably failing to clean other key areas.  The plan gives you one kitchen chore to do daily, so your kitchen is constantly clean, nothing too overwhelming but once you get into the routine of things you'll really notice a difference in your kitchen.
Mayssam Samaha, Founder, Will Travel for Food
One of my classic go-to books is Lebanese Cuisine by Anissa Helou published in 1994. Helou has become a prolific cookbook author since and one of the world's best experts on Middle Eastern cuisine. This is one of the first modern recipe book on traditional Lebanese dishes which have been around for ever and have always been passed down from generation to generation. Quantities and ratios are what I was looking for when I moved to Montreal and missed my mom's cooking and that's exactly what Lebanese Cuisine provides. Helou published over 200 of her mom's recipes in a modern format that made them accessible to everyone. I still go to it when I need more precise instructions than "a handful of beans" or "cook until it seems right".
Janice Lawandi, Founder, Kitchen Heals Soul
I'd say the most interesting book I've been baking from recently is Joanne Chang's Baking With Less Sugar, which I featured last month on my blog. Cutting sugar out of baking recipes can be really tricky, and so I've found the way she's attacked the subject very clever: either by using less sugar, or by baking with a "better" sweetener (like honey or maple syrup), or by using the natural sweetness of fruits instead of sugar. The recipes are pretty simple and range from muffins and cookies to more elaborate recipes for tarts and cakes. I think it's a subject that might interest your readers because most of us are trying to consume less sugar in general.
And inspiring in a different way is the Soup for Syria cookbook.  Big name chefs have contributed recipes to this cookbook detailing the plight of the Syrian refugees which have been largely forgotten.  See more here and buy the book here.
And, if you asked me…. I'd still say this one.  People – it's a winner.  Buy it!
Don't cook?  Here is what I've been reading and the best book recommendations from some amazing women.
Can't get enough? Subscribe and I'll send you my weekly post roundup right to your inbox!  You can also keep up to date by following me on Instagram, Facebook, Pinterest and Twitter.