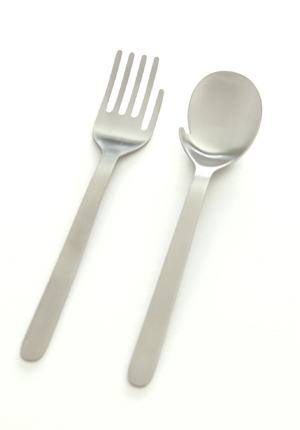 Posts I Loved
I love this flatware posted by Design for Mankind.  It's so cute!  Who knew you could get so creative with a fork and spoon.  Unfortunately, the entire website to actually order the goods is in Japanese and I couldn't find it on the English version of their website so I might have to wait a bit before actually getting a pair (but if any of the guests attending our upcoming wedding speak Japanese…)
I've seen these cake on a stick everywhere, and for some silly reason thought you had to buy them because they were made through some sort of industrial process or some process not accessible to the at home cook.  Silly me!  Of course you can make them yourself and Rhubarb & Rose has a very clear and elegant tutorial (which I found via Rock n Roll Bride)
OMG Bakerella has these unbelievable Hi Hat Cupcakes.  They remind me of the 'dip cones' my family used to get at the Lake.  We'd drive our boat through a narrow little river to the next lake over in order to go to the ice cream store to get an ice cream cone dipped in chocolate.  I've actually never seen a chocolate dipped ice cream cone in the UK.  But I don't really eat ice cream, so I am not a real expert on these things.
Posts like this one on a leopard print bag from India Knight  are why I love her so.  Short, funny and well written.  I love you India!
Events
London:

The fabulous Imperial War Museum is running an exhibition until 3rd January, 2011 called

 

The Ministry of Food

.  From the website:

 

The Ministry of Food examines how the British public adapted to food shortages during the Second World War, learning how to be both frugal and inventive on the 'Kitchen Front'.  
London: The inaugural Love Cooking Festival will be taking place at the Southbank Centre Tuesday, 2nd November.  Yes, Tuesday.  If you could get off work early, I suppose you could zip down to the Southbank to see Rick Stein at 18h….  I'd book your tickets now if you are interested.
London: If you love apples, head down to Lambeth for Apple Day on Sunday, 10th October.  Roots and Shoots will have over 100 apple varieties on display.  You know what they say about apples!